Getting a Mortgage to buy your council home after receiving a discount from the council

By resident expert Mr Payam Azadi.
I want to purchase my property off the Council and have been given a discount can you help me get a Right to Buy mortgage?
If you are reading this Right to Buy article you have probably already received a letter from the Council notifying you that you're eligible to buy your council property at a discount and you are at the point of finding a Right to Buy mortgage and determining whether you are eligible.
Let me start off by trying to answer some of the most common questions that I receive in regards to Right to Buy mortgages:
Can I get a mortgage if I have had bad credit in the past?
The answer is sadly 'no'. Unfortunately the lenders that are offering Right To Buy mortgages are your prime lenders which means they do not allow any late missed payments in the last five years. If you have got credit issues that consist of late payments defaults and CCJs, IVAs or bankruptcies your chances are very slim and unless the adverse credit is off your credit file or a least five years old I don't think we can help.
I do not have a deposit so can I use the discount given by the local authority?
Yes, the good thing about Right To Buy mortgages is the fact that the lender will allow the local authority discount to be your deposit. Therefore if the discount is £75,000 you will only have to take a mortgage for the balance between that and the open market value.
For example:
Open market value of the property is £200,000. You have the opportunity to buy it for £125,000. You can borrow the entire £125,000 as a mortgage. Effectively a 100% mortgage.
It is also common for lenders to add an extra rule preventing borrowing exceeding  the open market value by a certain percentage with 75% being the norm but we do have lenders we can access that allow this figure to be as high as 95%.
For example:
Open market value of the property is £200,000. You have the opportunity to buy it for £170,000. This equates to 85% of the open market value. So the lenders that only lend 75% would be ruled out unless a 10% deposit is put down.
Can I raise money above the Right to Buy discounted purchase price i.e. over 100% mortgage?

Yes, in fact this used to be common place. However since the credit crunch the number of lenders offering this option has greatly reduced but a good and knowledgeable Mortgage Broker such as Niche Advice can still provide solutions. Any additional funds must be raised for home improvements and the total loan cannot exceed 75% of the open market. Capital raising for any other purpose is not acceptable.
Borrowing additional money is normally subject to the local authority's/housing association's unconditional postponement of their charge. If they will not provide this the application may not proceed.
How much can I borrow on a Right to Buy mortgage?
This will totally depend on: your current circumstances; your occupation; your income; age; personal credit commitments and a number of the dependents you have. I will be more than happy to work everything out once you have made an enquiry.
Benefit income may also be used as a secondary source of income to support a main job in some instances. Guarantors (of good standing) such as children vouching for their parents who have a Right-to-Buy can be considered provided their income covers their own personal commitments as well.
My Mother and Father have been granted the Right to Buy Mortgage but I'm the earner can I satisfy the income requirement on their behalf?
If you live in the same property you will need to be named on the Right-to-Buy papers. If you own a different property and have a successful career the lender may consider you acting as a 'guarantor' for your parents. Your income would need to cover both mortgages though.
For example:
Fred is an IT Manager who has been employed for 2 years. On a basic salary of £50,000. He owns a property in London for £350,000 with a £125,000 mortgage. His parents have been provided with the opportunity of purchasing their Right-to-Buy in Dorset for £75,000.
Total mortgage liability £125,000 + £75,000 = £200,000.
This means Fred needs a lender that will lend 4 times his income (£50,000 x 4 = £200,000) which is certainly possible.
I have retired can I get a Right-to-Buy mortgage
If you are retired the lender will need to know you have regular and sustainable income such as a pension or lifetime annuity. State pension income alone is unlikely to be acceptable to the lenders as is income from savings, other forms of investments and buy-to-lets. The maximum mortgage term for most lenders is typically to age 70 or 75. At Niche Advice we have Right to Buy mortgage options to age 85 and beyond.
Cheapest mortgage rates for a Right to Buy mortgage
To obtain the best Right to Buy mortgage rates possible it is wise to speak to an independent Mortgage Broker who can access the whole of the market, such as Niche Advice. Be careful some Brokers work off a restricted panel which may mean you miss out on the lowest Right to Buy mortgage deals available.
What documents will I need to provide for my Right-to-Buy Mortgage?
This can vary from customer to customer but as a generalisation you will need the following:
A Right to Buy notice.
All the names given on the Right to Buy notice must be on the mortgage.
Details of the home improvements planned (if applicable).
If you are employed: 3 months' payslips and last P60.
If you are self employed: 2 years' accounts or self assessment returns.
If you are retired: your private, company and state pension or annuity statements.
Last 3 months' bank statements showing your current rent being paid and salary credit.
How can I get a Right to Buy mortgage?
Simply complete the online enquiry form on the right-hand side of this page giving us some basic information.
We will get in touch and ask further information about the discount and your own personal circumstances.
We will provide you with product research giving you a breakdown of affordability repayments and all fees, and upon your acceptance we can oversee the application to the chosen lender.

For more information on Right to Buy Mortgages please contact us on T: 020 7993 2044 or alternatively complete the simple enquiry form on the top right hand side of this page.
Payam Azadi is a partner at Niche Advice Ltd who are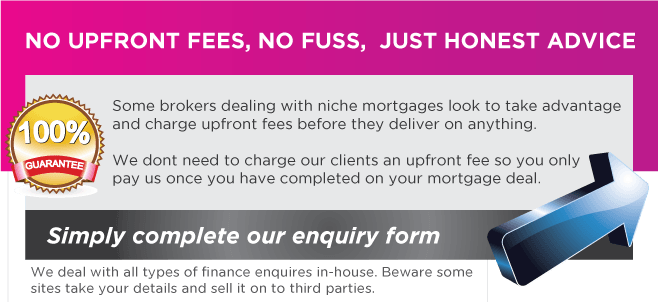 Payam Azadi is a partner at Niche Advice who are whole of the market Independent Finance Brokers In London. His role is very much focused on Property financing both on residential and commercial lines.
You can call Payam on 020 7993 2044 or alternatively complete the enquiry form so he can personally get in touch with you.
Niche Advice is not tied to any bank, building society, estate agent or insurer and offers Independent Mortgage and Insurance advice.