Niche Advice offers bankruptcy mortgages and this page will provide more information on when bankrupts can get a mortgage after being discharged from their bankruptcy.
Getting a mortgage after bankruptcy can be very difficult however at Niche Advice we specialise in sourcing the right mortgage for you and that includes if you have been bankrupt.
 In my research for this article on 'mortgages for bankrupts', I looked on Google and too my surprise most of the information presented on websites on bankruptcy and mortgages was out of date. It could be that sadly those intermediaries have moved on from the industry during this economically tough time leaving their website displaying historic bankruptcy mortgage information for prosperity or they are or simply out of touch. Anyhow, I'm happy to set the record straight and will tell you directly that since the credit crunch obtaining a mortgage whilst having an historic bankruptcy in the background takes care and attention and is generally something that mainstream lenders with their limited funds try to shy away from [continued below]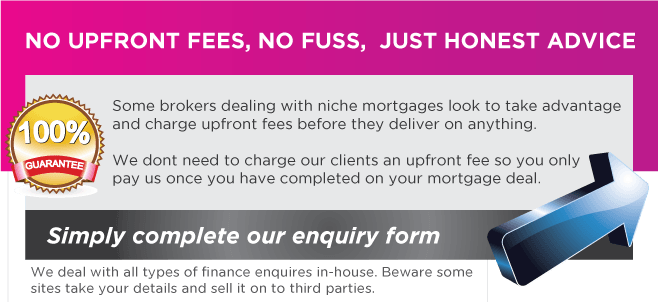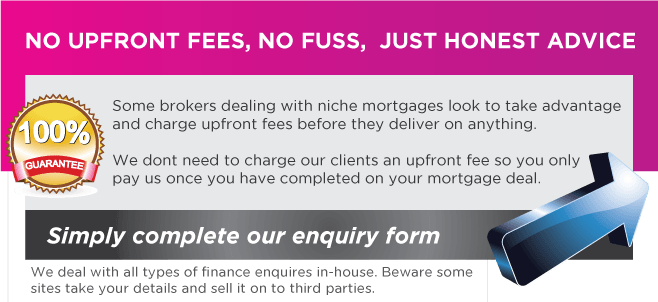 In my dealings and discussions with clients who are ex-bankrupts the whole ordeal of going through the bankruptcy process is a life changing experience with so many obstacles to tackle along the way which undoubtedly changes them as a person. The mortgage lenders do not appreciate that in many instances that becoming bankrupt was the sensible thing to do at the time with decisive action taken to draw a line in the sand, and as such even when you have worked through the discharge period and managed to turn things around and get your life back on track. In fact the default mortgage industry position for lend to bankrupts is to lend after a minimum of 6 years since the discharge has been completed.
The good news is at Niche Advice we can help discharged bankrupts on much more favourable terms with bankruptcy mortgage lenders so why not give us a try?
Frequently Asked Questions
Question one: can I get a mortgage as an ex-bankrupt?
The answer is 'yes' you can, we have access to a number of bankruptcy mortgage lenders who are willing to lend to ex-bankrupts, lending criteria all depends on, level of deposit usually being 25% and over, employment statistics, as well as credit history after bankruptcy. I'm sure by now you are no stranger to credit companies such as Experian, CallCredit and Equifax credit agencies; one of the first things you should do is get your credit report which will demonstrate all your passed history.
Question two: how long after I'm discharged from bankruptcy  do I have to wait to get a mortgage?
You would need to be discharged for a minimum of three years to obtain a bankruptcy, with a clean credit file for at least that year, what I mean by this is that, no missed payments, late payments, arrears or defaults within after you have been discharged

Question three: How much deposit will I need for a bankruptcy mortgage?
The deposit level has a direct level on your success rate for a mortgage. The larger the deposit the better are your chances. As a rule of thumb I would say the minimum requirement is a 25% deposit but  it is also dependant on your overall case and whether you are looking to buy in sole name or as a joint application with a partner who may have a good credit file.
Question four: What sort of mortgage rates can I expect for bankruptcy mortgage?
Bankruptcy mortgage rates change almost on a daily basis. I produce a constant stream of mortgage applicants and as such I have managed to place ex-bankrupts with some of the top high street lenders as part of a bulk deal but if the position is more complex then the rates can be two or three percent higher. Again, it largely depends on the whole case, the loan to value and the applicant's occupation and earnings now. If the rate is higher than the norm we will look to remortgage you away as soon as your credit profile will allow.  And, importantly all the terms will be provided before you commit.
Question five: what is the process of getting a bankruptcy mortgage?
·      Make an online enquiry by completing the form on the top right hand side of this page, I will then get in touch to ask for some more information about the case.
·      Please supply an up-to-date credit file report. If you do know how to do this then let me know and I'll provide guidance.
·      I will email over information about the products, rates and fees. Once you're confident you would like to go ahead:
·      I'll gather more information about yourself and ask fore supporting documents to help with the mortgage process   such as pay-slips, bank statements and IDs to submit to the lender.
·      The bankruptcy lender will assess the case and if happy will instruct valuation of the property
·      Upon successful valuation an offer is produced by the lender.
·      Applicant will agree with the offer and will commence the legal work.
·      Properties will exchange and then subsequently complete.
Payam Azadi is a partner at Niche Advice Ltd who are Independent Financial and Mortgage Advisers in London.
For more information on how we can help ex-bankrupt applicants and source a lender who is willing to lend to them after being discharged, please contact us on 0207 993 2044 or alternatively complete the simple enquiry form on the top right hand side of this page.
(Please make sure you also have an up-to-date Equifax Credit Report ready to email to us.  To get your Free Report please click on the link image)

Payam Azadi is a partner at Niche Advice Ltd who are Independent Financial and Mortgage Advisers in London.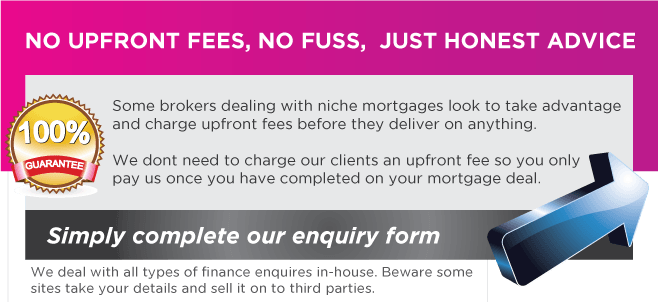 Payam Azadi is a partner at Niche Advice who are whole of the market Independent Mortgage Brokers. His role is very much focused on Property financing both on residential and commercial lines. To get in contact with him please click here.