The rat race to find a property make an offer and secure a mortgage in London

Sourcing the right mortgage in London might not be as easy as you think. It's no secret that the London property market has been bucking the trend, not only in the UK economy, but throughout the world. The influx of wealthy individuals wanting to live in London has sent property prices soaring in an upward spiral. This is great news for existing residential and buy to let owners but not so good news for people looking to get onto the property ladder within the London area.
In this article I will try to outline some of the key issues facing potential buyers and getting a mortgage in London.
Maximum income multiples – mortgages in London often need to be greater than the rest of the country
Each lender has its own different way of working out affordability. This tends to be a generic equation which returns between 3.5 to 5 times your income as a maximum borrowing limit. Lenders want to lend money as that's their business however whilst this sweeping generalisation can be affective in most areas of the county, the pocket that is London is excluded. The answer would be to take account for regional variation but the lenders are reluctant to run two processes for their minions.
Where I can help out is with your variable income as I have access to lenders who will take a large proportion of bonuses for applicants such as investment bankers and stockbrokers.
Mortgage Interest Rates in London
Just like Waitrose and BMW reduce their goods: mortgages too are a marketed commodity – with headline grabbing deals. A 1.99% rate catches the eye (particularly when the mortgages in London are higher) but often the underwriting behind the rate can be extreme with the lender asking for your inside leg measurement to be taken by a Savile Row tailor! My advice is to make sure you are guided by a professional London mortgage broker, such as Niche Advice, before you apply as lenders that turn you down can be traced on your credit file.
Also the headline rates often need a minimum of 40% deposit. Which may be achievable for your '£100,000 Newcastle mansion' but it equates to £300,000 on a standard London £750,000 family home purchase.
As we based in Victoria in London we understand these issues as we deal with London mortgages day in and day out. We will research the building societies, institutional and private banks to ensure we get the best and relevant mortgage rate for you.
Lease and Property specification
If you are looking to buy a property in the heart of Central London the short length of the current lease can exclude many lenders. This again can be attributed to a 'dumbed down' general country wide lending policy that views property such as this as 'dead stock'. I can agree that an ex-council flat in the outskirts of Leeds with 20 years left on its lease is not going to have many takers but try and apply the same logic to a 4 storey converted flat in Portland Square – and you can see the failing as a 'one size fits all' approach is a nothing short of a brash policy.
Fear not, the lenders value our experience in this matter and we can provide bespoke solutions to sort the issue out.
Finding a property, making an offer and getting a Mortgage in London
The above are just a few examples of how the lending community as a whole fails London. By rights it should be easier but it is indeed much, much harder and professional advice is recommended as even 0.5% more on your mortgage rate will hurt your pocket on loans of this size, and damage the bragging rights to your mates.
I was told recently by one of my Estate Agent Introducers that in some areas of London: for every seller there was 30 buyers – which translates into 29 disappointed families for every transaction is made.
London prices are going up – and may become unreachable if you do not act quickly – because as illustrated above; the lenders are not in tune with events.
Where I'm Different to Most London Mortgage Brokers
London Mortgage Broker are all arrogant, and I'm no exception – but I back it up. My promise to you is I will not charge you a penny for my service until you have the key to your London door.
Think about it. I will research the best deal for you and personally oversee the application process without you paying a bean.
To put this into context: I have full confidence in my ability to secure the right mortgage for you.  Furthermore, my promise protects you from events I cannot control such as: the vendor pulls out; you pull out; the property is down-valued; you lose your job; the property has structural issues; you are gazumped; your partner has a change of heart. In all of these instances and anymore before completion:  I will not charge you anything for my time.
For more information on getting a Mortgage in London please contact us on (020) 7993 2044 or alternatively complete the online enquiry form on the right-hand side of this page.
Payam Azadi is a partner at Niche Advice Ltd who are Independent Financial and Mortgage Advisers in London.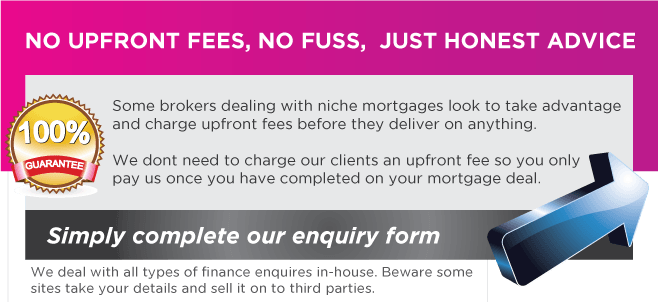 Payam Azadi is a partner at Niche Advice who are whole of the market Independent Mortgage Brokers. His role is very much focused on Property financing both on residential and commercial lines. To get in contact with him please click here.