Thinking of going direct to the lender with your mortgage – GOOD LUCK you may be there a while.

New MMR Mortgage Regulation has hit some direct branch lenders hard as the regulator now has put a stop to almost all of the non-advised sales for mortgages. Non-advised mortgage used to happen when for new purchases where the lender simply gave you information to read on a product and you had to choose what you wanted to do.
The problem with that process was the fact the client was almost always disadvantaged because they were given information on only one lender products and could potently choose products without knowing the full consequences of it. It's also still allowed for existing customers but even with this we are finding more and more lenders asking their clients to seek 'independent advice'.
[pullquote]For once brokers have got something to cheer about! An uplift in business and direct lenders simply cannot cope with the regulatory changes.[/pullquote]
What does it mean for you?
All I can say is I have seen a surge of feedback from clients who have approached lenders directly and been disillusioned and disappointed. They apparently don't have the staff, systems or processes ready to handle the extra demands of the new regulatory requirements. And, slow turnaround times in this market is fatal and others will have their acts together and you could be priced out.
Don't get me wrong we are not 'ring-fenced' from all the service ills but as we are 'whole of market' we can steer you away from blockages in certain lenders and give you an informed choice of options. Importantly we are offering 'advice' on whether the mortgage is right for you and will go through the downsides and pitfalls of the small print. It is easy to get carried away when purchasing a property and a proper sounding board can save you hundreds (if not thousands) of pounds in the long term.
For more information mortgages please complete the Contact Form to the right hand side of this article or call T: 020 993 2044.
Payam Azadi is a partner at Niche Advice Ltd who are Independent Financial and Mortgage Advisers in London.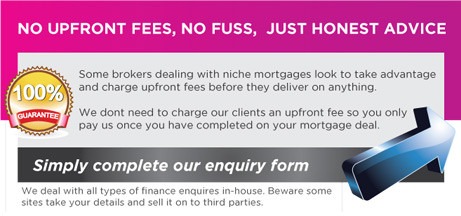 Payam Azadi is a partner at Niche Advice who are whole of the market Independent Mortgage Brokers. His role is very much focused on Property financing both on residential and commercial lines. To get in contact with him please click here.