If you are looking for a buy to let mortgage into retirement then look no further. This exceptional product does not have an age limit which is almost unheard of in this day and age.

This means that you can continue to enjoy rental income in your retirement rather than have to sell the property.
Qualification criteria for the Buy to Let Mortgage  Into Retirement
Houses in England and Wales only.
Current residential homeowner.
No adverse credit.
No maximum age at entry. Maximum term 30 years.
Maximum buy to let portfolio (20 to include this application).
Minimum deposit or equity 25%.
Not available for student lets, HMOs or DSS tenants.
Minimum earned income either from employment, self employment or private pension is £20,000 per annum.
Example of current Buy to Let Mortgage Into Retirement
Based on a purchase price of £200,000 and an interest only mortgage of £150,000 over 25 years.
There is a telegraphic transfer fee of £30 and a mortgage discharge of £125 on full redemption. The main early repayment charges are 2% of the amount repaid in the first 2 years.
The 75% Buy to Let Mortgage Into Retirement are current as at 17 October 2013:
2 Year Discount


Initial pay rate 3.99% (APR 5.2)
Valuation Fee £185 / Arrangement fee £895 / Booking Fee £100
Currently at £498.75 per month for 2 years. After this period the mortgage will revert to the lender's variable rate at the time. Based on today's prices this would be £648.75 per month.
GOOD POINTS
Many of my clients are looking to supplement their rental income into retirement and unlike most lenders this solution is not limited by a certain age at entry.
It is also available for purchases and remortgages, including first time landlords.
The case is underwritten by a human being rather than a computer so there is discretion.
The product fees are reasonable.
BAD POINTS
It is only open to landlords looking to finance houses who must be an existing home owners.
The arrangement fee must be added within the maximum loan to value of 75%.
The process is very manual so does take longer to arrange.
Only applicants with an impeccable credit history can apply.
To find our more on this and other buy to let mortgages into retirement please complete our Contact Form to the right of this article or alternatively call us on (020) 7993 2044.
Payam Azadi is a partner at Niche Advice Ltd who are Independent Financial and Mortgage Advisers in London.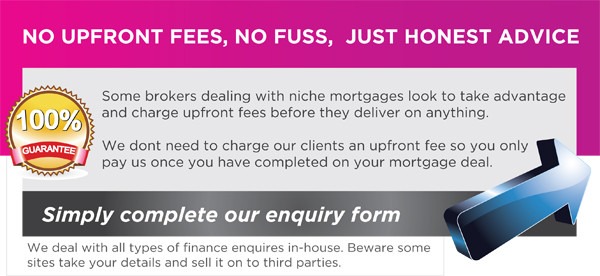 DISCLAIMER
The views expressed in this article are based on my own personal general opinions and experiences, and they are not necessarily shared by Niche Advice Limited or other Mortgage Brokers. Rates correct as of 17/10/2013
Payam Azadi is a partner at Niche Advice who are whole of the market Independent Mortgage Brokers. His role is very much focused on Property financing both on residential and commercial lines. To get in contact with him please click here.