Up to 90% loan to value Mortgages for foreign nationals on a Tier 1 and Tier 2

Okay – you've been working here for a while and are getting fed up of paying a high amount of rent and are therefore looking to buy your first property. For this to happen you will need to look a Mortgages for foreign nationals.
Undoubtedly the first and natural place for finance would be your existing bank. So you probably made an appointment and visited the local branch and were somewhat under whelmed with the service you received. It is common for the inexperienced Branch Assistant to say 'yes' only for a back office to overrule them. This is a familiar story as I hear tales of this nature all the time. The chances are you are the first 'foreign national' they have encountered, as staff turnover is great, and as such they were unaware of the difference this poses to their lending policy when it comes to Mortgages for foreign nationals.
However, do not get despondent as there any many lenders in the UK and an experienced Mortgage Broker will be able to guide you to the most appropriate lender for foreign nationals who will be accepting of a VISA.
Mortgages for foreign nationals – Not enough time left on your Visa remaining
Of the lenders that are active in the VISA lending market most will restrict borrowing to applicants who can provide a VISA permit that shows at least two years remaining at the point of mortgage application. This rule is crude and ill thought out, and demonstrates how little lenders understand about the Visa process, but it provides a general and simple framework for acceptance that can be imparted to the lender's staff to follow.
Well as you are no doubt aware it is usual to come to the UK on a three-year Visa which will nearly always be extended for a further two years (provided the terms of the original VISA are adhered to and you stay the right side of the law). Typically, after this period, you will be considered for indefinite leave to remain here permanently. It is anyone's guess as why to lenders fail to recognise this process when determining their underwriting policy.  It is common sense that the majority of foreign nationals will be happier to purchase a property in the UK once they have been given the all clear of the initial VISA extension. However, in order to meet the mortgage lender's policy of 'two years left to run on your VISA' you would need to put in your mortgage application on the same day as the extension was granted! Not particularly practical.
However as you may have come to expect of Niche Advice we have arrangements with certain lenders to provide solutions for this and other eventualities but everything is 'bespoke' and you will need to discuss this with me as Mortgages for foreign nationals are not straightforward.
Mortgages for foreign nationals – Not enough deposit
Depending on which lenders you approach the level of deposit required for foreign nationals is anywhere between 10% to 40%. The level of deposit required can be related to your occupation and tier level of the VISA. Once again I've got access to a number of lenders who can lend up to 90% loan to value which means you only have to put 10% deposit down. I also have access to a range of products which do not come with any set-up fees such as 'free' valuation fee and 'no' arrangement fees which saves on the upfront cost of a mortgage.
I would also add 'new build' houses and flats can restrict the maximum borrowing substantially as lenders see these as a greater risk so be warned Mortgages for foreign nationals do come with a lot of pitfalls and by getting the right advice you can avoid lots of complications.
Mortgages for foreign nationals – Source of deposit
One of the biggest issues lenders have with lending to foreign nationals is the fact that the deposit may originate from abroad and as such they may have difficulty adhering to their own Anti-Money Laundering (AML) stipulations and this added 'fear' factor can mean the lender shies away from the transaction altogether.
The exact stance varies from lender to lender. Due our vast experience dealing with foreign national mortgages we are familiar with the question sets applied and have a number of template responses that we have used successfully in the past to alleviate the concerns of the lender to make the mortgage application acceptable.
Mortgages for foreign nationals – Costs
Most VISA applicants approach us after experiencing the high cost of rents and are looking to switch to a mortgage as it is more cost effective. This exercise would not be fruitful if the associated set up costs spiral out of control. By using a reputable Mortgage Broker, such as Niche Advice, we can protect you against abortive costs. We do NOT charge an upfront fee for our service and have access to lenders that offer the same ease of entry with 'free valuation' and 'no' arrangement fees. What this means is we can obtain a full Mortgage Offer without you putting your hand in your pocket. This product only requires a 10% deposit and has a £250 cashback which can be used towards your legal bill.
As an ethical Mortgage Broker in Central London we believe this to be the right approach. Once you have the keys to the door our fee for the service is payable and our fee for foreign national mortgages will never be more than half a percent of the loan amount. Our Price Promises means that all fees, costs, and rates will be clearly stated, in writing, ahead of the application process.
I hope you found this article on Mortgages for foreign nationals useful and please contact us should you wish to take this further.
For more information on Mortgages for foreign nationals please contact us on T: 020 7993 2044 or alternatively complete the simple enquiry form on the top right hand side of this page.
Payam Azadi is a partner at Niche Advice Ltd who are Independent Financial and Mortgage Advisers in London.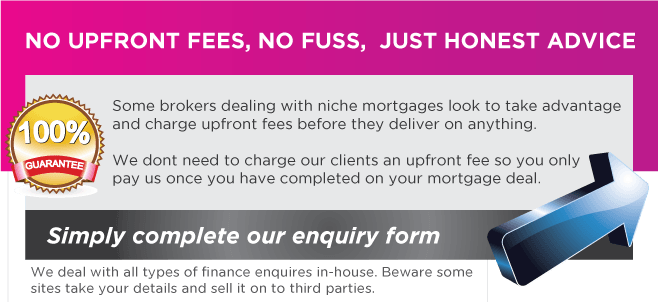 Payam Azadi is a partner at Niche Advice who are whole of the market Independent Mortgage Brokers. His role is very much focused on Property financing both on residential and commercial lines. To get in contact with him please click here.